---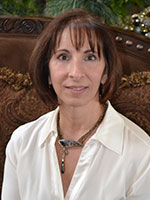 Gail M. Mancuso
Vice President
Gail began working during the summers for the family business after graduation from high school. She experienced the thrill of her first solo flight in a Cessna 150 at Deer Park Airport in the summer of 1972.
Each summer, while attending Kutztown State College in Pennsylvania, she continued to work for Mid Island. In 1976, she graduated with a B.S. in Art Education, certified to teach K-12. In 1978 she had the opportunity to fill in for an art teacher on leave at Hauppauge High School and taught courses as diverse as fashion illustration and jewelry making.
After graduation, she began to work full-time at Mid Island's Brookhaven Airport location as the flight school dispatcher. She earned her Private Pilot's Certificate in February 1980 and in the Fall of that year, she attended a 200 hour, FAA Aircraft Dispatcher, training course and successfully completed this certificate. From 1981 until 1987 she worked at LaGuardia Airport for New York Air, a regional airline, which operated DC9-30's, MD-80's and Boeing 737's. She began as a dispatcher and not long after, was promoted to Flight Control Manager, responsible for overseeing the operation of 35 aircraft and a staff of ten dispatchers. When Continental and NY Air merged, the dispatch office was relocated to Houston and Gail came back to the family business.
(But not before spending a month in the South Pacific).
Acting as General Manager of the Islip branch and VP of the company, Gail is grateful that Lou, has generously made her a quarter partner in the business, founded by their father. Gail is the Director of the Louis Mancuso, Sr. Scholarship Fund, founded to honor her father, the founder, of Mid Island Air. Since 2009, the fund has presented two, $1000 scholarships annually to Long Island high school seniors pursuing a career in aviation. Gail has participated in the Long Island 2 Day Breast Cancer, 35-mile walk since 2005; personally raising over $40,000 to benefit Long Islanders affected by this disease. In 2006 she had the opportunity to challenge herself by spending five days camping and hiking across the Grand Canyon, Rim to Rim. In the Fall of 2007, she spent a week in Taos, NM volunteering in the construction of two, Habitat for Humanity, adobe homes. She is an avid reader and loves to travel, both domestically and internationally. In January 2008, she reached her goal of visiting all seven continents when she walked with the penguins on Antarctica.
---