---
---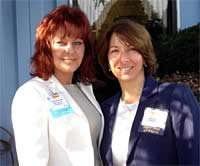 Leaving the New York winter weather behind we traveled to San Antonio , Texas for our first attendance of the NBAA Schedulers & Dispatchers Conference. We found this to be one of the best conventions for our target customers, the flight department people who make the ultimate decision as to which FBO their flight crews visit on the field. With our unsurpassed customer service, NATA First trained linemen and fair and competitive pricing this was a wonderful audience to introduce ourselves and our services.
From the first time attendee meeting to the various classroom style seminars this function was top notch. The two guest speakers were just phenomenal. Beginning with Gene Kranz, the former NASA director of mission operations whom without, Apollo 13 (1970 for some of you youngsters) the ship & crew may have bounced off of the earth's orbit "like a stone skipped on the water". He was an amazing and knowledgeable speaker with an enticing piece of history to have heard first hand. You may wish to purchase a signed copy of his book, "Failure Is Not An Option", available in hard and soft cover at the NY Jet pilot shop as well as rent the "Apollo13" DVD to refresh your memory of a time when NASA not only held the USA's full attention, but the rest of the worlds as well.
The second highlight was motivational speaker, Vicki Hitzges, and boy was she ever inspirational. "Stick to the basics", "the customer is the most important person in the world" and "surround yourself with positive people" were just a few of the points that she presented in an entertaining manner.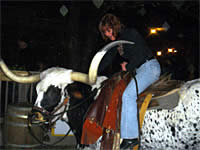 As with all conventions your so called "down time" is just as important for the rejuvenation process in knowing that you have to walk that exhibit floor yet another day! We found our relaxation in the hot tub and the frozen daiquiris!
The after show sponsored parties are always a big hit and true to form, these did not disappoint. Wednesday's party at Boudros, the seemingly never ending restaurant, which continued from room to room to room was an appreciated treat compliments of Sentient Jet. Thursday's excursion was to a working cattle ranch, complete with a live country band, bbq food, bon fire & Arroro the steer. Gail and Bonni both braved a leg up on Arroro, praying that this would not be the moment he chose to become feisty and take one of us for a real ride! This large well orchestrated event was sponsored by the Avitats.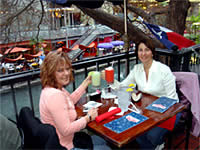 San Antonio is also a great place for shopping, sight seeing and a little lesson in history. We did manage to fit in a bit of each. The Alamo , is as everyone says, smaller than you'd expect but very informative. We also toured two of the missions and relaxed on the boat tour around the Riverwalk and checked out the local shops and restaurants. A very quaint, picturesque place to take a stroll, but you must be careful not to get too close to the edge of the sidewalk as there is no protection from missing a step and going into the drink!
As representatives of New York Jet, we'd like to take this opportunity to express how nice it was to see some familiar faces and are pleased with the prospect of making some new friends. Thanks to all who made this show a wonderful first time experience for us, we hope to see you on your next visit to ISP, L.I. MacArthur Airport . We welcome the challenge to continue to destroy the myth that there is no such thing as a nice New Yorker.
Bonni Van Camp
Corporate Services Manager
Gail Mancuso Jensen
VP/General Manager
---
---
View All News
---
---
«back
---