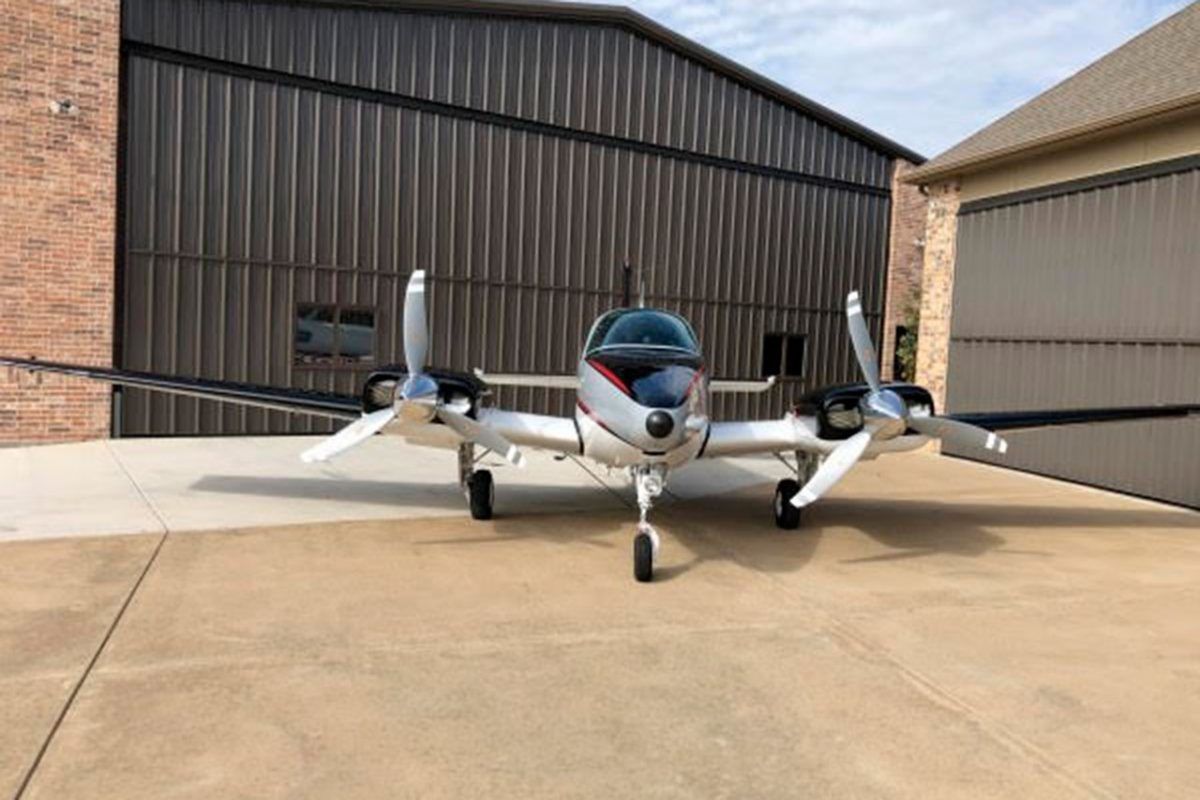 SOLD
---
1964 B55 Baron 95-B55, N112AC, TC-681, A&P/IA owned last 11 years, the previous owner of B35's.
5310 TT Airframe, No corrosion, Custom Painted December 2019 by Poplawski Painting Ennis, Texas.

IO-470L TCM 260HP, Nickel Chrome ECI cylinders, Oil Filters, Gamin injectors, accessories, and hoses.
Rt. Engine: 340 SMOH. 1935TT
Lt. Engine:  385 SMOH. 2063TT

30 Hours: on NEW 3 Blade Hartzell Scimitar Props…The old 3 blades were not worthy of an overhaul.

Annual completed February 2021, IFR Static Certification 11/2020
AVIONICS
Garmin GFC 600 Digital Autopilot with ESP, (Like having a Co-Pilot), Autotrim, Altitude Pre Select, GPSS, with audio warnings, super smooth.
Garmin Audio, 5 person intercom, 2 music inputs, audio warnings from autopilot, TIS-B Traffic, and Garmin 560.
Garmin 430W GPS, Terrain, TIS-B traffic, with audio, 2 recessed Garmin G5,s interconnected EFIS, HSI, GPSS coupled to autopilot in new panel.
King KX-155 with GS
Garmin 560 in panel with Audio warnings, NEXRAD, XM radio with switching option.
Garmin 330ES ADS-B Transponder and TIS-B traffic displayed on 430W with audio warnings.
JPI EDM 760 engine analyzer, Back up Vacuum Attitude Indicator with 2 wet vacuum pumps, Digital Volt meter, Ameri-King 406 MHz ELT with remote switch.
MAJOR HISTORY
February 2021
Annual completed, New Hartzell 3 Blade Scimitar Props, 2 New Concord AGM XC Batteries with a Concord approved 24 volt Battery tender.
December 30, 2019
Complete strip and gorgeous 4 color repaint by Poplawski Painting Ennis, Texas. All controls balanced, new hardware on controls and inspection plates. Francis Poplawski is the finest craftsman in the business. 

October 2019
Repairs completed after storm damage while in hangar at KADS Addison, Texas June 2019.
Metal and window damage. 

January 2018
Avionics upgrade Garmin GFC 600 autopilot, New panel with recessed Garmin G5's installed. Century III and NSD 360 HSI removed.

2015
Garmin 1030ES Transponder with ADS-B and TIS-B traffic installed.

March 2014 Newly Overhauled Rt. Engine installed
June 2013. Newly Overhauled Lt. Engine installed.

2012
Interior removed and reupholstered, all flight and engine instruments removed, overhauled and painted, interior painted, Garmin 430W, KX-155, Garmin 560, Fiber Optic instrument lighting, and D Shannon speed Slope windshield installed.
This aircraft was ordered with all major options from the factory by a Canadian Mining Co, and flown from the factory to Canada in May 1964. Options included 3 Blade props, Large Baggage door, extended rear baggage, and Camera placement.

I have all original documents from Beech, original logbook, Owners manual, equipment list, weight and balance. The Canadians used the original logbook for a few months and then switched to their record-keeping system. The aircraft was returned to the USA in August 1972 and registered, I have the original logbook and all logs since August 1972.

I removed the original Engines in 2013 and 2014, and replaced both engines with TCM Gold Medallion rebuilt engines from 1991, which I rebuilt in 2013 this explains the difference in engine times and airframe times. There is 40 hours difference in the newly overhauled engines.
Asking Price: $154,900
---
---
---