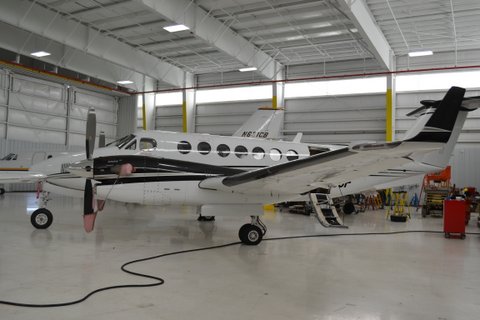 SOLD
---
SOLD
REGISTRATION NO.: N899JF S
SERIAL NO.: FL-497
AIRFRAME:
1700 HOURS SINCE NEW / CYLCES 1955
PRIMARY INSPECTION: PART 135 CURRENT
Landing Gear 6 year inspection: 9/2012
Phase 1-4 completed 4/2013
ENGINES / PROPS:
LEFT ENGINE: 1700
HOURS SINCE HOT SECTION: Fresh with Sale
RIGHT ENGINE: 1700
HOURS SINCE HOT SECTION: Fresh with Sale
PROPELLERS: 4-Bladed Hartzell
LEFT AND RIGHT PROPELLERS: SPOH: 775 Hours 9/2011

AVIONICS:
Collins Pro Line 21
3 AFD-3010 Adaptive Flight Displays – (Pilots PFD, MFD, Copilots PFD
FMS includes CDU-3000 Control Display
Collins FGC-3000 Autopilot Dual Collins VHF-4000 Com
Dual Collins Nav-4500 /4000 Dual Collins TDR-94 Mode S TXP
Collins 4000 DME Collins ADC -3000 Air Data
Dual AHC 3000 AHRS Collins FMS-3000 Flight Management
GPS 4000A Global Positioning Collins ALT-4000 Radio Altimeter
Collins TTR-4000 TCAS Collins RTA-852 Weather Radar
Collins MDC -3000 MX Module EGPWS Mark VIII Computer
Collins DBU-4100 Data Base Unit Emergency Battery /Power Supply
ADDITIONAL FEATURES:
Nacelle Wing Lockers Dual Aft Body Strakes
RVSM Baggage Partition
Lead Acid Battery Aft Cabin Blower
Cockpit Voice Recorder 77 CU.FT. Ox bottle
Rosen VX Moving Maps/DVDs/CDs Bluetooth XM Receiver
Sales Price: $3,700,000

INTERIOR:
8 Tan Leather Cabin Chairs in double club seating arrangement with Laterally/Swiveling Chairs. Forward LH and RH Cabinets with Drawers. Cabin Partitions. Electric flushing side facing toilet.
EXTERIOR:
WHITE BASE WITH BLACK AND GOLD ACCENT STRIPES. NEW 2006
---
---
---