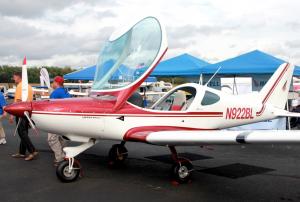 SOLD
---

DEMOS NOW AVAILABLE LONG ISLAND NY!
The BRISTELL was conceptualized by acclaimed airplane designer Milan Bristela, www.brmaero.com the pioneer in light sport aviation behind such industry standards as the Piper Sport and the Evektor SportStar. With this next-generation airplane, he has re-imagined the entire light sport aircraft class, establishing a brand new standard for comfort, performance and handling.

The BRISTELL is FUN
With a remarkably unobstructed view and luxuriously appointed, widest-in-class cockpit, the BRISTELL allows pilot and passenger to focus on flying without being too close for comfort! And BRISTELL's added comfort doesn't sacrifice cargo space – in fact, this airplane's superior design makes it lighter AND sturdier than other LSAs, an engineering feat that translates into a useful load of 616.5 lbs! More luggage and an extended range of up to 8 HOURS. means you can fly further – and in more comfort – than ever before!
The BRISTELL is FAST.
Manufactured in the heart of Europe's growing aviation industry by BRM Aero in the Czech Republic, the BRISTELL's 100 HP ROTAX 912 practically sips fuel while cruising at an exhilarating 135 miles per hour. At maximum cruise, the BRISTELL can take you over 800 miles in less than 6 hours!
The BRISTELL is EASY TO FLY.
Don't let BRISTELL's high performance fool you! The BRISTELL is an ideal trainer for flight schools – and those same characteristics make the plane a dream to fly. The plane is wider and longer than similar LSAs, adding greatly to its stability and ease of handling, even at slow flight.
---
---
---